Products
Our products are carefully selected for their beauty, function, and quality. Our preferred cabinet line, Plato woodworks, provides some of the finest craftsmanship available and produces pieces that are made specifically for your project.
Cabinetry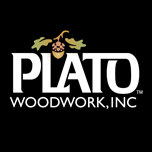 PLATO WOODWORK
For the past 100 years this fifth-generation company has been providing framed, custom wood cabinetry that preserves handcrafted quality. Plato still builds every Plato Personalized Custom™ cabinet in the true art of custom cabinetry where every cabinet is made to order, one of a kind originals. Plato means having your cabinetry in any style, any color, any finish, any wood, any size, anywhere-whether it's for a kitchen, bathroom, home office, library, family studio, or an entertainment room. Hand selected rough sawn lumber, handcrafted and hand detailed, the finish is as tough as it is beautiful. Now available in both framed and full access construction, as well as a semi-custom framed option.
Flooring
Carlisle Wide Plank Flooring
When you demand the absolute best in flooring, Carlisle Wide Plank Flooring is the answer. Woods for every taste, from today's modern look to a reclaimed grandpa's floor!
Countertops
Hardware and Accessories
Plumbing Fixtures
Bathroom Furniture
Barclay
Decolav
Kohler
Porcher
Fairmon Designs
Ron Bow
Lacava
Toto
Architectural Products

Enkeboll
Outwater Plastics

Tile

Antiquity
Trikeenan
Daltile
Appliances
Contact us for a complete list of recommendations.